Section Architectural Model
Section architectural model is a perfect presentation tool to demonstrate building foundation and framework and explain the physical and spatial relationships of a building at the same time.
Section architectural model is best suited at 1:100 or 1:200 as construction details and interior design of the building can be seen clearly with these scales.
Once the structures like layers of facade cladding, staircase construction and supporting beams need to be shown, architectural drawings and other related information can help to avoid modeling errors.
Select appropriate model making materials and approaches to make the section architectural model helps the client to save some time and cost, and it mainly depends on what messages need to be expressed.
In order to give an insight into the internal structural aspects and specific detailing of the architectural design, the lighting system can be added to the section architectural model to further highlight the unique features of the design.
In short, section architectural model is a valuable tool to develop and promote the primary design, and it is also a visual representation that assists the viewers to understand the overall completed design and architectural rendering, and therefore stimulate the potential buyers' purchasing desire.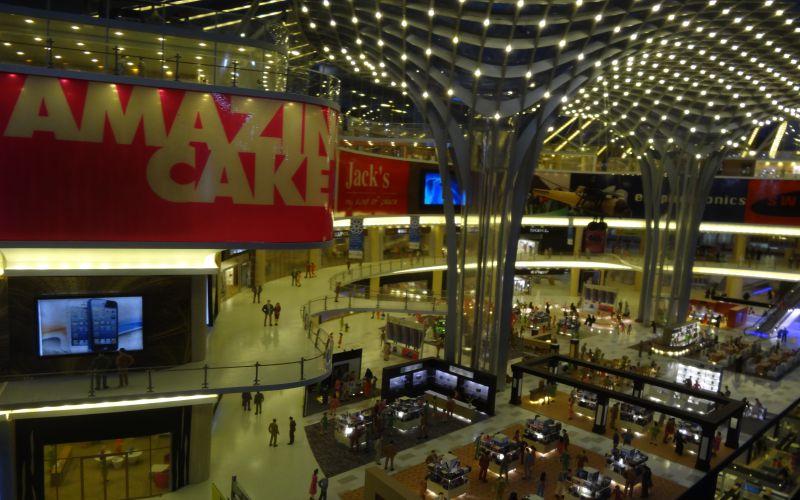 Simple Steps to Work With Us for Section Architectural Model
Check More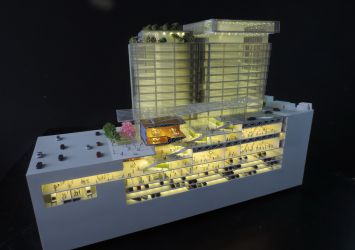 Scale: 1: 200
Size: 1750mm x 600mm
Production Time : 1 month
RJ Models built this unique 1:200 section architectural model of Dongbu Building to illustrate SOM's bold design, especially the underground space, which would encompass the commercial and business function, as well as utilized for car parking and minimize the footprint on the site.
Illuminated by gentle yellow lights, this section architectural model successfully met the client demands as the fairly underground area was vividly emulated and a surprisingly level of details was included, which turned the model into a wonderful masterpiece.
Designers from SOM also commissioned RJ Modelers to reveal the 'attached' podium with a well-designed canopy, which was later manufactured using colored wood and translucent acrylic, and together with the added scenery of roof garden beside, this section architectural model offers the viewers various life-like scenes with great charm.
RJ Modelers complete this section architectural model in one month, and it is considered as a great mix of traditional and cutting-edge model making product.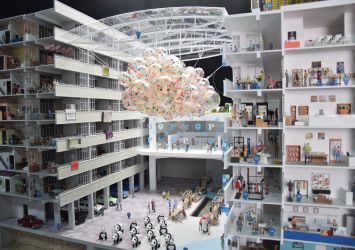 Scale: 1: 50
Size: 1800mm x 1400mm x 1200mm
Production Time : 1 month
This section model from RJ Models for PMQ in Hong Kong is a unique project as it gives a view for pre- and post-renovation of the building. This model shows the transformation of the building from an old quarters to a creative hub in Hong Kong.
The architects and RJ Models executed the concept of showing a before and after phase of the renovated building.
The wall transition from gray to white gives a distinct difference between the two phases.
The amount of detail of this architectural modelis amazing, as the modelers populated each room with realistic and full-color models of lively people and their busy activities within the spaces.
The canopy stands out of the model as it is made with transparent sheets, which implies that a great amount of natural lighting goes into the hall.
This project by RJ Models gives an example on how section models can be able to bring stories to life using immense details.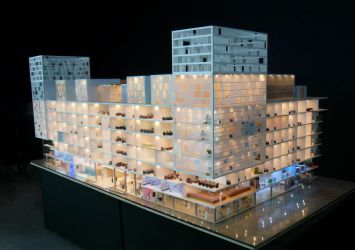 Scale: 1: 50
Size: 300mm x 120mm x 450mm
Production Time : 1 week
Another astounding model project made by RJ Models is the section model for Lusail Blvd in Qatar.
Being a part of the Commercial Boulevard, this building gives an impression of the quality and high-standards of the whole project.
This one is another distinct model from RJ Models as it provides a sectional view in all angles. To provide vision for the interiors, the modelers decided to place lights in all rooms and establishments in the building.
This project shows our architectural model maker in Qatarattention to detail, giving every space unique details and characters.
This helps viewers to be engaged to this model.
The model comprises various commercial establishments that are well-lit with warm lighting, pleasing the viewers and compliments every detail.
Despite the abundant details this scale model possesses, the high level of fine details is never left for granted. This is the quality of RJ Models.
When you want to show the interior and the structure of a building in a single model, one great way to present it is through section models from RJ Models.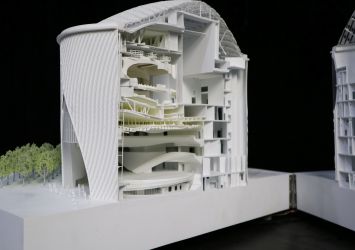 Scale: 1: 200
Size: 750mm x 600mm
Production Time : 3 weeks
At first glance, this scale model seems to be straightforward, however, looking into the interior will give viewers surprise and amazement. The Xiqu Opera Center in Hongkong, a design from RLP, is Hong Kong's home for traditional Chinese Opera.
RJ Models crafted this section model to exhibit the unique interior layout of this seven-storey structure to better convey the architects' design.
The modelers made sure to create a sectional cut that will be seamless when closed.
Moreover, the sectioning was made offset to the center to give viewers the features such as the courtyard and grand theatre in its entirety.
The sections are hinged together at their base plate, which can provide easy and interactive experience for the viewers.
At the left section, the courtyard and theater are engaging and stunning. Our architecutal model buildingteam installed lighting to give attention and bring out unique details in both areas.
The complex architecture is exhibited in the model, accurate to the real-life building.
Viewers can appreciate and gain an understanding of the building's unique architecture.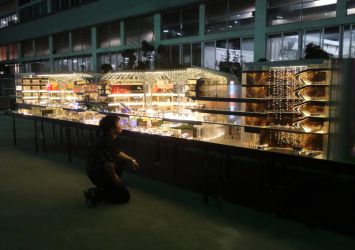 Scale: 1: 50
Size: 4200mm x 1800mm x 1200mm
Production Time : 1 month
RJ Models have created a massive 1:50 scale model of the Hopkins Airport in Dubai.  With almost 4 meters in length, RJ Models placed a great amount of details to cover the whole model.
RJ Models have created this large model in two months, to complete every aspect from the materials, structures, details, and lighting.
The architectural model makers in Dubaidid an excellent job to make the airport modelas real as possible. By using different materials, the modelers were able to portray the airport's interior close to the actual project.
High-level details such as the brand decals, shops, and human models gave the impression of a busy airport.
The lighting was also assembled with precision, not only to give illumination, but display an elegant arrangement.
From this model, you can see RJ Models study each layout very carefully. Each part of this model showcases various rooms and areas of the airport. RJ Models included details for rooms such as gyms, bowling alleys, play areas, check in queues and counters, shops and others.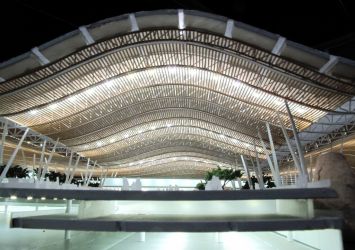 Scale: 1: 500
Size: 1800mm x1200mm
Production Time : 1 month
This is another intricate airport created by RJ Models for SOM.
The Bangalore Airport Model, scaled at 1:500 provides a unique way to show its interior.
This airport model is sectioned to provide a viewing area of its interior.
This technique makes the model complete with details for an airport model, but includes a glimpse for the interior areas of the building.
RJ Models is an authority when it comes to creating airport models.
With that, they include complete details of airports from runways, taxiways, buildings, and other accurate details to make it as realistic as possible.
The section shows the interior part of the airport, which includes details like human models, counters, and even gardens and mini parks that give a refreshing ambiance for visitors.
The elegant lighting embedded in the roof also complements the complexity of the roof design, and gives a contrasting warm color against the plain white flooring.
With large scale such as airport section models, our architectural model maker in Indianever fail to deliver with realistic and high-detailed projects.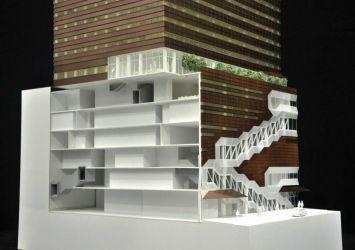 Scale: 1: 100
Size: 800mm x 8000mm x 1000mm
Production Time : 1 month
Another project by SOM Architecture, RJ Models made this section model to exhibit the iconic features of the New School University in New York.
From its facade, viewers can see the recognizable staircases of the building.
RJ Models also strived for accurate design and materials for the wall, in order to portray it as close as possible.
Our architectural model maker in the New Yorkdecided to create sections on several sides, including a section along the roof plane. This allows views for the various interactive spaces around the school. These spaces include drawing studios, classrooms, laboratories, and fashion studios.
Viewers can note that various materials are used in this model to provide a contrast in several areas.
This adheres to the project's goal of keeping similar educational programs together in an area.
Section models do open the possibility of a scale model to be detailed in its exterior and interior, and provides high chances of customizability.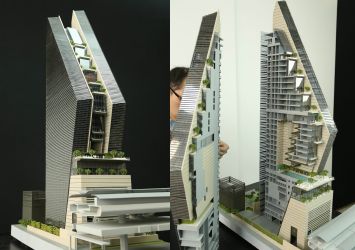 Scale: 1: 150
Size: 800mm x 350mm x 850mm
Production Time : 3 weeks
This section model by KPF is another amazing model by RJ Models.
From accuracy, detail, and implementation, this model can be a head turner for viewers and visitors.
RJ Models created the section cut strategically vertical along one side of the building.
This way, the interior details and notable structures can be appreciated.
From a close-up view, opening the model will give a better view of several details such as the swimming pool, office areas, and gardens and vegetation.
Also, viewing the interior view provides more perspective on the building and the available spaces it holds.
RJ Models, as always, created this section model with great attention to detail.
Our architectural model maker in Thailandcarefully selected materials such as tinted and translucent acrylic sheets for glass, wood and others, in order to give a lifelike representation of the structure.
More than being detailed, section models from RJ Models allows viewers to interact and engage with the model, giving each model uniqueness from the rest.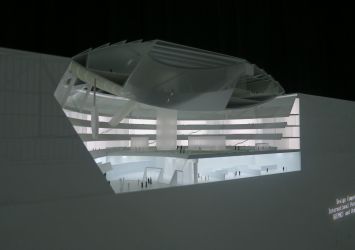 Scale: 1: 200
Size: 1500mm x 450mm x 1200mm
Production Time : 3 weeks
RJ Models has been commissioned to create a section model for SOM's project on the Kuwait International Research Center.
Given the project's landscape, SOM has designed this model to be underground in the Gobi Desert.
With harsh weather and environment, the architects from SOM proposed an underground facility which has a dome roof only seen at the ground level.
RJ Models created a section model to illustrate the plan and profiles of the research center.
Moreover, this model embodies the unique character of the structure.
To give a sense of scale, our architectural model makers in Kuwaitincluded human models. This shows the immense space allocated for this institution.
Our architectural modelers also installed white strip lights for each floor to give the feel of a professional and focused environment. The black tainted human figures also help contrast themselves against the environment, making them more distinctive and defined.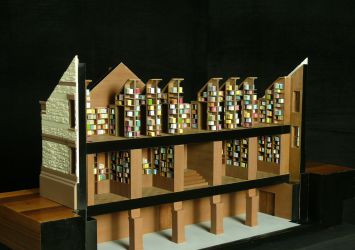 Scale: 1: 24
Size: 600mm x 420mm
Production Time : 2 weeks
This section model commissioned by Teleos Design breaks the common notion for architectural models only for display.
The Library in Seattle has been modeled in 1:24 scale, and provides a lot of detail from the exterior and interior design.
RJ Models created this building model in several sections. That way, every detail inside the structure can be viewed, almost interactively because of the number of parts.
This model can encourage viewers to see through the exterior brick patterns and have a look inside the library.
The dominant wood material covers most of the interior structures such as shelves, tables, ladders, chairs and floor.
The shelves are stacked with books painted in various colors, setting off against the wooden colors of furniture.
The rest of the interior is also elegantly detailed. RJ Models utilized several materials to achieve the look of various wood materials.
With several manufacturing techniques and their experience in the modeling field, our architectural model makers in the UScontinue to break through and satisfy its clients.
Scale: 1: 150
Size: 400mm*400mm*500mm
Production Time : 2 weeks
The Winter Square Art Museum by GTLand is a product of RJ Models' experience in handling various modeling materials and their modeling experience.
This model, scaled at 1:150, presents a modern look, but also provides its viewers a deep engagement as both the interior and exterior can be disassembled per storey.
The modelers used acrylic sheets as exterior to give the glass-like appearance, while the interiors are manufactured through 3D printing.
To keep them intact while assembling, the exterior frames and the interiors are slotted on top of one another.
Each floor presents different floor plans, accurate to the building's floor plan.
With this kind of models, the viewer just does not look, they are also able to interact and touch the model.
This gives the viewers more understanding about the building.
RJ Models can be able to create section models that can provide better engagement and communication with your clients.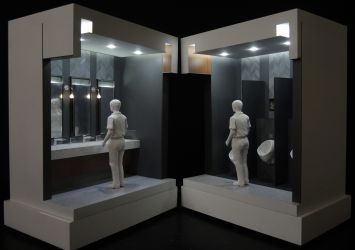 Scale: 1: 40
Size: 250mm x 300mm x 350mm
Production Time : 2 Weeks
This toilet section model by KPF will be a good conversation tool for your clients as they will be able to touch and have a look at your projects in a deeper perspective.
The toilet or bathroom can be a deal breaker for some clients.
With various preferences, architects and the clients can be able to communicate better when the project is seen from a detailed model like this.
The exterior is simple, as RJ Models focused on the interior, which covers more important details of such projects.
The sections are fastened together using a hinge, making it durable and functional in this design.
Viewers can be able to see the interior design physically, unlike a floor plan or picture render.
The LED lights also emulate lighting in the room, which provide clearer viewing as well.
These types of models can define your architectural designs better, and can translate to more satisfied clients.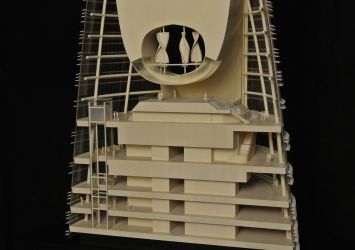 Scale: 1: 100
Size: 300mm x 120mm x 450mm
Production Time : 1 week
The Pertamina Energy Tower in South Jakarta is one of SOM's sustainable projects.
This tower is the centerpiece for the headquarters of Pertamina, an Indonesian state-owned energy company.
With the aid of RJ Models, the section model for the Pertamina Tower was created.
This section model focuses primarily on the tower crown which contains the 'wind funnel' which can be able to generate energy through the increased wind speeds at high altitude.
Moreover, the tapering design of the tower is designed according to Jakarta's proximity to the equator.
The curved facade will mitigate solar heat gain all year round, but still will provide natural lighting.
As the model only covers for the tower crown, our architectural model makers in Indonesiaprovided details in order to help viewers the scale of the actual project.
Top floor is populated with human figures at 1:100 to help viewers understand its scale.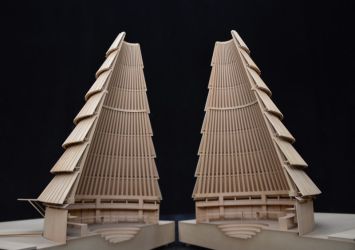 Scale: 1: 25
Size: 700mm x 500mm
Production Time : 2 weeks
The design for a Birdwatching tower from Ronald Lu & Partners blends well with agricultural areas.
RJ Models has created a section model to help clients visualize this project before it is even constructed.
This section model is mainly made with wooden parts cut precisely with CNC and laser cutting technologies.
RJ Models, with years of experience, can be able to produce such precise parts with consistency and repeatability.
The section model is cut strategically so that it joins seamlessly when combined.
The model sections are also mounted on a base to add rigidity and provide a good foundation.
The intricate details of this structure shows the dedication of RJ Models. With the help of technology, the architectural model makerscan create precise parts that can aid when modeling.
Section models can provide a better understanding with buildings even before construction. As compared to renders and floor plans, section models are the best tools to showcase your project to your clients.
Scale: 1: 100
Size: 600mm x 350mm
Production Time : 1 week
This footbridge model  by Wilkinson showcases a complex but elegant design.
RJ Models created a 1:100 scale bridge modelfor this project, exhibiting the bridge and its elegant exterior frame.
RJ Models modeled this bridge section starting with a base plate where all parts are mounted into.
The simplistic white color of the model allows for the focus bridge's concept and design.
On the other hand, the exterior covering the bridge contains complex design, which can be achieved through technologies such as additive manufacturing.
Creating such complex models on manual work would be laborious.
With 3D printed model making techology, the part can be made straight from its 3D model into a manufactured product.
The exterior is based on the Reuleaux triangle, a curve of constant width.
In concept, this curve is formed from the intersection of three circles.
This section model can help with validating concepts during the planning phase.
With section models, every detail can be inspected and studied well using a tangible model.
Scale: 1: 40
Size: 1400mm x 600mm x 950mm
Production Time : 1 month
RJ Models built the section model for the Xuhui business center in Shanghai, showcasing the interior of the commercial establishments. The model also gives a preview of the multi-level parking for minimizing the building footprint.
The modelers used different lights for the car parking area and the commercial spaces to give a contrast for the two spaces.
For the commercial spaces, our architectural model maker in Chinaused various materials to portray glass panels like acrylic sheets and effectively show each of the establishments' interior.
At the centerpiece of the structure is the atrium that features a performance podium and a multimedia screen. Finally, the rooftop landscape gives a nice touch in the model.
RJ Models utilized lighting, materials and details to deliver this model to achieve an accurate and eye-catching model that satisfies the customer's requests.
The interior modelsfrom RJ Models can be a great selling factor for clients as they can give anticipation to viewers before the project.
Why RJ Models Can Make Your Model The Top

9999+ Projects Experience
RJ Models has an extensive team to ensure the highest-quality result whilst complying with tight deadlines.

Top Model Quality
Our Shenzhen factory prides itself as the largest facility of its type in the world since 1995.

Fast Model Production
RJ Models has an extensive team is committed to individual customer solutions and ensuring quality in whatever we do.

Excellent Service
Our priorities include distributing our installations exclusively and worldwide.
Some of Our Clients
Global Shipping For Any of Your Section Architectural Model